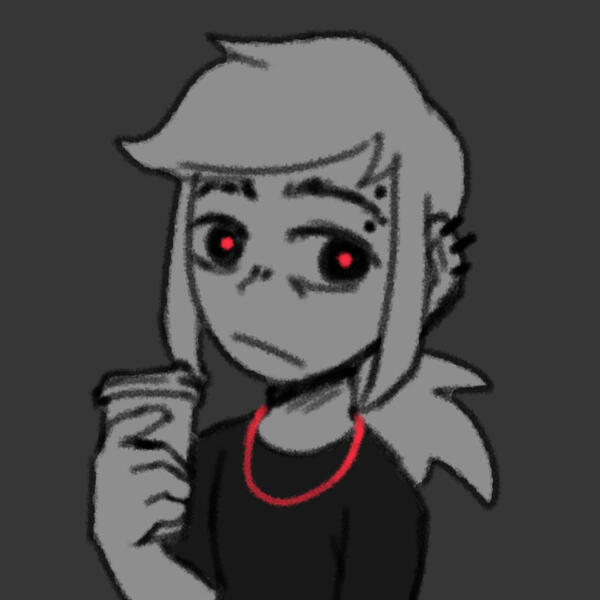 reveragon
---
internet something-or-other
About
wer/he ⯌ uk
hi, I'm Digi. you probably haven't heard of me.
werewolf dude studying animation, attempted cool guy of the year. i'm neurodivergent, so bear with me when i'm a little funky.
I draw whatever I want really, but you can expect a lot of my special interests and characters.
enjoy your stay in the teratozone. ♥
interests
general
dragons, cryptids, mythology and legend

monsters / terato

unrealistic gore (candy/fruit etc)

found footage/cosmic horror

archaeology, paleontology, animal biology (particularly marine)

worldbuilding

various obscure or old animanga (mär, original nge, magi, etc)

aviation

fullmetal alchemist
videogames
pokémon (⯌⯌⯌⯌)

splatoon (⯌⯌⯌ special interest ⯌⯌⯌)

fantasy life

starbound (⯌⯌⯌⯌)

minecraft

nintendo in general
aesthetics
space, the sky

neon/urban, metropoliscore

mountains, beaches, tropics, volcanoes

extreme weather, e.g. storms

solarpunk/ecopunk/cyberpunk

a very specific kind of vaporwave
SKILLS
2D animation

character & creature design

digital illustration

fiction & nonfiction writing

logo design

photography

pixel assets & animation

digital art zine production

physical art zine production

digital group moderation

html & web design (minor experience)
F.A.Q
what do you use to draw?
Aseprite for pixels, Photoshop CC from my university for photographs, Tahoma2D to animate, Clip Studio Paint EX for everything else.
how long do your pieces take?
Anything from a few hours to a month. My motivation to draw is pretty unpredictable.
when did you start drawing?
I started drawing seriously 11 years ago as of July 2022.
this section will be updated with more answers as and when they're needed.
Contact
you can find me under reveragon on most sites. my most active links are in the footer, but here are other sites i'm on.
commission
PLEASE READ THE TERMS OF SERVICE BEFORE CONTACTING ME FOR A COMMISSION. THANKS!general commissions are currently OPEN; see images below for what's available.business enquiries can be sent to [email protected], or other methods established in the commission posts.
TERMS OF SERVICE
---
GENERAL
By commissioning me, you agree to ALL of the terms outlined below, in addition to the terms in outlined the workflow, crediting, and design sections.

All commissions will be paid via Ko-Fi or Stripe until further notice.

I retain rights to the commissioned artwork under all circumstances.

You may not use my independent work for any commercial purposes without explicit discussion before I begin work on the commission.

You may not transform any commissioned artwork into a NFT (Non-Fungible Token) under any circumstances.

I reserve the right to deny a commission at any time, for any reason.

Payment plans are negotiable for more expensive works on a case-by-case basis.

I will only start work on your commission after receiving payment, whether in full or a first section.

I will not accept cryptocurrency as a form of payment. If you attempt to pay me with cryptocurrency, I will reject your commission and blacklist you permanently.

Failure to complete payment or respond within an agreed timeframe will result in your commission being revoked and an appropriate refund, if any, will be issued.

Repeated failure to send payment or respond will result in your accounts being blacklisted.

I will only give complete refunds if I am still early in the sketch phase or if I have not started.
WORKFLOW
I can work to deadlines, but I will need at least a week regardless of simplicity, and deadlines MUST be negotiated before I start work.

Depending on the complexity of the commission, I will send works in progress during the sketch phase where you can provide further direction and changes you would like.

I will also send works in progress upon request.

If frequent updates on the commission are desired, WIP frequency will be agreed upon before I start work.

Once the lineart or painting phase begins, only minor changes can be made for free. (For example, colour updates, hairstyle tweaks, added accessories) Big changes (such as additional characters) will be charged at the standard additional rate.

If you would like something drastically different and want no more progress made on the original commission, I can give you a partial refund (no more than 50%) and you can commission me again.

If you ask for updates too frequently (generally more than once per 24 hours) I will cancel your commission and refund you according to the progress I have made.
CREDITING
You may not re-upload commissioned artwork to your own social media accounts, with a few exceptions outlined below.

You may use commissioned work on RP sites/forums/et cetera, provided there is credit visible on your account.

You may upload commissioned artwork to Toyhou.se, but you must link to my account under the "on-site artist" credit section. (@digi)

You may not transform the commissioned artwork into a NFT under any circumstances.

If you want to use commissioned work in projects such as YouTube videos, please discuss with me beforehand, as credit needed will depend on the project.

I have the right to deny usage of my artwork in any situation.
DESIGNS
Once you purchase an adoptable or other design, you are given total rights to the character and partial rights to the design.

You cannot claim the original design as yours, but you may update and edit it within reason; dramatic overhauls that render the design unrecognizable from its original iteration are not allowed.

You can, however, make a new character inspired by the bought design at any point.

Upon posting the design to your own social media for the first time, you MUST link back to my profile and cite me as the original creator of the design. If you do not, you will be placed on the adoptable and design blacklist.

If you post the design to Toyhou.se, you MUST credit me as the creator of the design under "On-Site Creator". (@digi)
WILL DRAW
Human/Humanoid

Sonic

Furries (Anthro)

Original Characters

Fanart / Official Characters

Closed Species

VTubers
MAY DRAW
Pairing artwork

Furries (Ferals)

Violence/Mild Gore

Fruit/Candy/Cartoony Gore

Mecha or Complex Designs (i.e. Evangelion units)

Media crossovers
WON'T DRAW
NSFW (unless stated on commission post)

Alt-Right Themes

Work to be turned into, or in favour of, NFTs

Extreme Violence/Gore (torture, decapitation)

Pedophilic or incestuous themes

Pairing artwork of real people who are not already openly dating (i.e. jacksepticeye/markiplier)

Characters with offensive names, designs, or themes

Fetish artwork